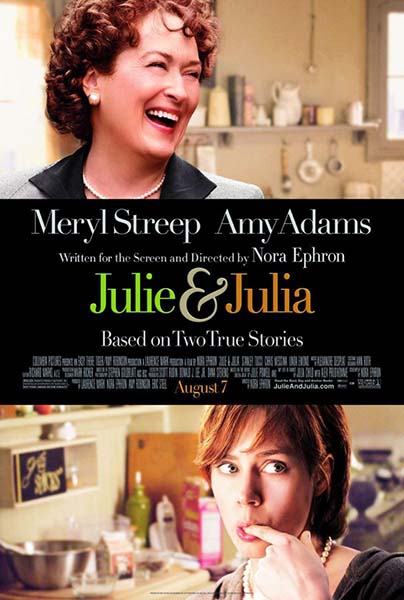 This is a very enjoyable movie about the life of Julia Child and a young woman, Julia Powell, who decides to cook and blog about every recipe in Child's cookbook, "Mastering the Art of French Cooking."
Meryl Streep, of whom I've never been a fan, does an amazing job of portraying Julia Child. She captures her mannerisms and vocal patterns perfectly and makes you believe that she truly is Julia Child. I looked it up and found that although nominated for the Oscar for Best Performance by an Actress in a Leading Role she did not win. Instead the Oscar went to Sandra Bullock for her role in "The Blind Side." Bullock was wonderful in that movie but Streep did something really special here and it's a real travesty that she did not win.
Before watching this movie I assumed that Julie would somehow have met Julia and that the movie would be about their interactions. Turns out that is not the case at all. Surprisingly the two never met. The movie is actually two separate stories, one about Julia Child's life in France and her learning to cook and getting the book published while the other is about a self-centered, annoying, unhappy young woman who finds meaning in her life cooking Child's recipes and blogging about them.
As I mentioned earlier, the movie is very good, but in the end I found myself wondering why they just didn't make a movie about Julia Child instead. The woman had a fascinating life and they didn't have enough time to cover it because of the dual threads in this movie. The Julie story, while somewhat interesting, really amounted to nothing in the end; just an unhappy woman with an obsession about Julia Child. I guess they probably figured the Julie aspect might bring in younger viewers but it seems to me like they really missed an missed opportunity.