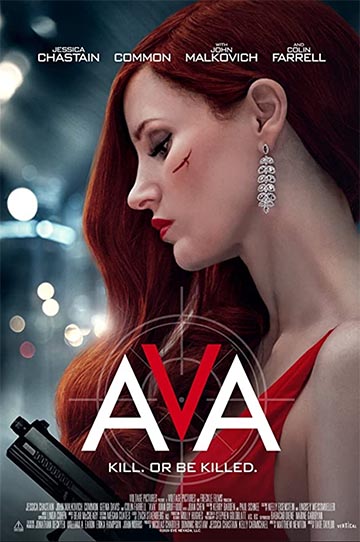 Cast
Jessica Chastain – Ava
John Malkovich – Duke
Colin Farrell – Simon
Common – Michael
Geena Davis – Bobbi
Director: Tate Taylor
Screenplay: Matthew Newton
This is another one of those movies that makes me ask myself "Why all the hate?."
It gets a 5.4 rating on IMDB and on Rotten Tomatoes the critics give it a 17% rating while the audience doesn't do all that much better, rating it at 30%.
The movie is about a young woman assasin. The organization that she works for finds out that she's been asking her targets, "What did you do?" before killing them and that has them worried. They decide that she may be feeling guilty about her killings and they believe that she has become risk to the organization and needs to be eliminated. The man that recruited her is not sure about it and does his best to protect her.
During the course of the movie we find out she's a reformed alcoholic, grew up in a house with a not so nice father and mother and had a serious relationship with the man who now dates her sister.
It's not a pleasant movie; theres no happy ending and almost all of the characters are not nice people and have done bad things in their lives. That said, there's a good amount of action, a pretty decent story and lots of interesting characters.
Ava won't win any awards and probably won't be remembered in the coming years but it's entertaining and better than a lot of other stuff out there and worth a few hours of your time.